Let's forget 2020, even if in the end quite a few appointments could be saved despite the difficult health context. Let's look ahead to 2021: have plans and offer yourself some exciting activities, so that you can turn the corner at the end of the year in the best possible way!
And this season of JSR (Safety track days) will be particularly interesting with a lot of innovations:
Before detailing the agenda, a major change should be noted: a cancellation insurance can now be taken out, it is an ASSURACING service.
– Very affordable, the price is progressive from 11 € to 47 €, depending on the concerned track day.
– Valid for many cases (illness, holiday cancellation, weather etc…).
– You subscribe at the same time as your reservation!
– Important, the only inconvenience is that the day is no longer transferable (you will not be able to get a last minute substitution).
– Even an interruption of driving for any reason – even a bad weather condition 😉 – allows you to receive a partial compensation.
What else?
A third party responsibility insurance? It is already included in the price of the booking!
TRANSPONDERS
Launched in 2020, this option is now an established part of the service:
More safety in the constitution of groups and readjustments after each session if necessary.
And …your time available at the end of each driving day!
New EMBLEMATIC TRACKS
After Le Mans Bugatti, Magny-Cours, Aragón, Valencia, you got: Alcarràs, Mugello et Catalunya Barcelona !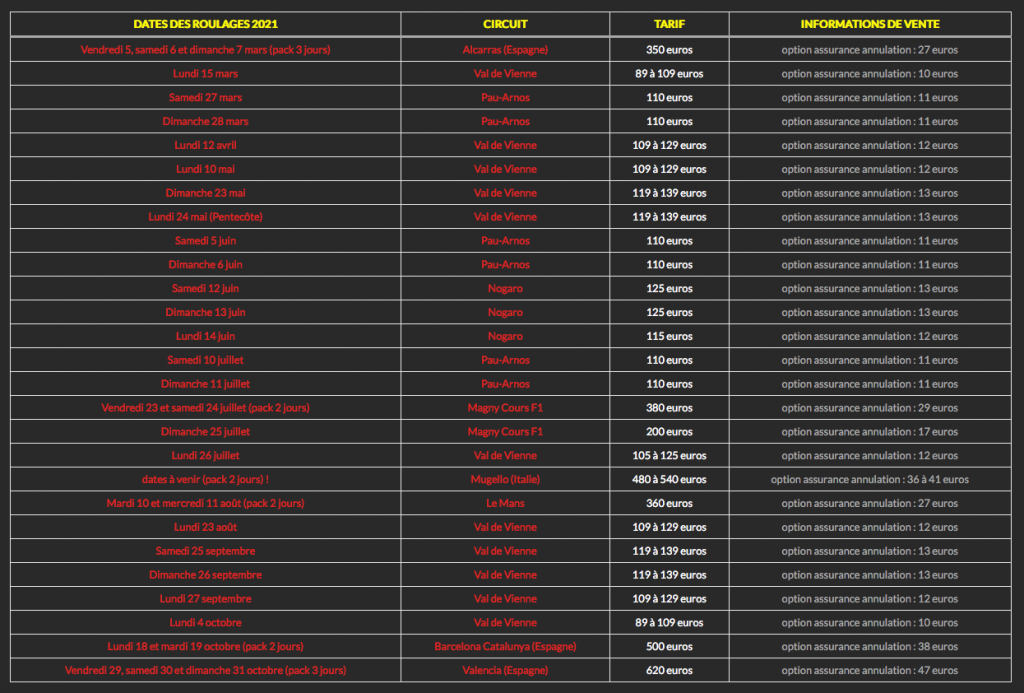 And always…
A certified instructor available for you, whether you are a beginner or not.
Deductible VAT for professionals, or invoicing without VAT for foreign professionals, take advantage of it!
Le Vigeant, Circuit du Val de Vienne, has very attractive conditions for « early birds », so be the first to book!
You're still seeking a X-Max gift ?
Driving day or merchandising, support the Team 18 Sapeurs-Pompiers and show it!
Text: Isabelle Maillet
Agenda picture: Team 18 Sapeurs-Pompiers
Banner picture: Isabelle Maillet
Check out all the articles about Team 18
Become partner of Team 18 Sapeurs-Pompiers!