Innovate for the comfort and performance of the rider, during and after the ride.
Which use?

Studies in the world of competition have shown that the Hyperkewl® system is suitable and usable on a large scale in various domains. It has been shown that our body, in situations of high effort, uses 75% of its energy to maintain its normal temperature constant.
Hyperkewl® helps to relieve the body when it is subjected to extreme conditions. The body's performance and endurance are improved by 20%.
For motorcycling, Hyperkewl® garments are not suitable for track / competition use, however they offer a certain comfort after a stint or training session. And remain compatible for all complementary activity: sports, outdoor leisures.
HYPERKEWL® c'est :
– an integrated PEF (Polymer Embedded Fabric) absorption cooling fabric,
– a good cost-effectiveness ratio,
– a proven technology,
– Light, durable, reusable, washable, non-toxic accessories
Easily activated

By the process of cold evaporation: the water is stored in fibres and gradually restituted by evaporation to balance the body temperature.
Simply dip the garment in water for 1 to 2 minutes. The Hyperkewl® system absorbs the necessary water in very small quantities. Press delicately to release the excess water, wipe the surface: the garment is ready to be worn without feeling wet on regular clothing!
Then, the temperature is reduced by 6°C and -12 C compared to the ambient temperature, between 5 and 10 hours depending on its intensity. The product can be reactivated immediately.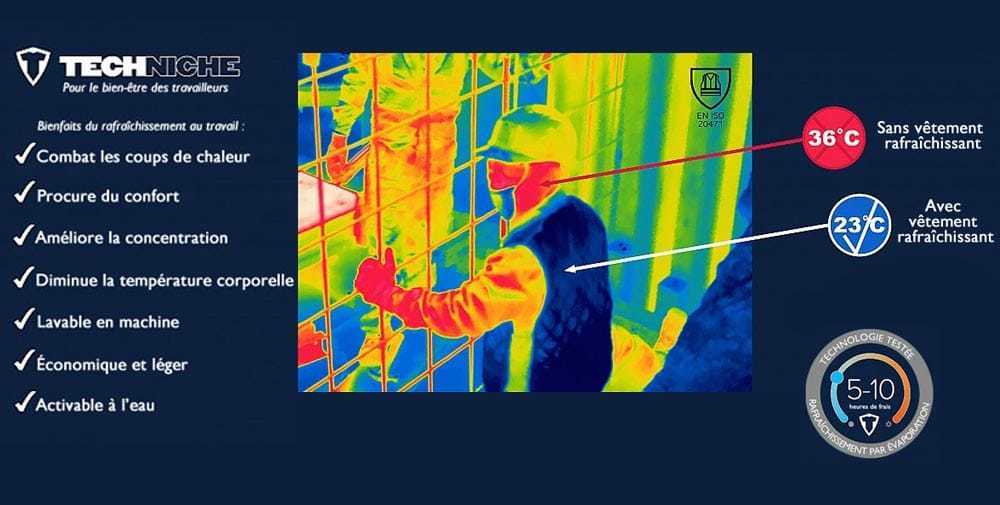 Video Demo

Inventor of the concept

The Dutch manufacturer Techniche Europe is the world leader in the manufacture of heating and cooling equipment for professional, sports and leisure use.
Text: Isabelle Maillet
Pictures: Techniche & Isabelle Maillet (2nd video road)