Do you follow « long distance » races, just for the fun, to see the machines running, to be moved by the noises, the smells, the colours? Or even to admire the performance of your own sports bike? These are our first motivations as fans of course!
And if we take a closer look, is everything clear to you? Here is a small focus on the categories to which the bikes you will soon see racing during 24 hours belong, do you follow me?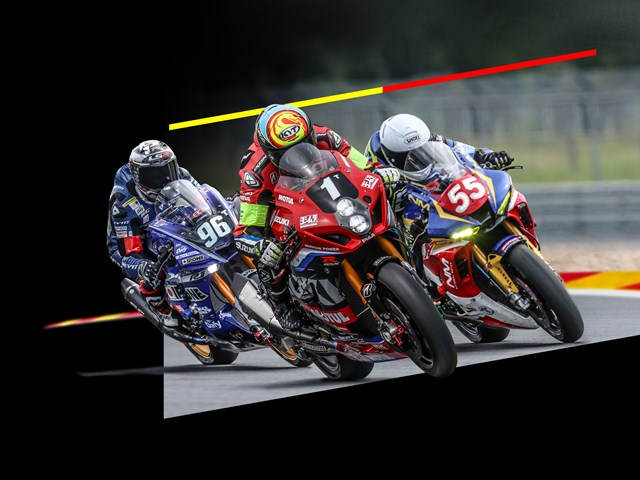 EWC category
The EWC is seen as the « cream » of the machines, it is the premier class of endurance racing: in terms of preparation and …budget!
The basis is a Superbike machine, which means a race bike, like the ones that take the start in international races (WSBK) or national races (FSBK, BSBK in Great Britain or IDM in Germany).
Here are the allowed preparations, specific to this category: engine preparation (maps, specific cartographies, shhh… well kept secrets by the teams!), quick change systems for wheels, fork, shock absorber, swingarm, brakes, exhaust, endurance fuel valve. So many specific developments are possible.
Displacement and weight are also regulated: minimum 175 kg, or rather, not below 175 kg! And 1000 cm3 max for the 3 and 4 cylinders, the twin-cylinders can go up to 1200 cm3.
And how do you recognise them on the track? Nothing could be easier: black number plate and white headlights.
Superstock (SST)
In Superstock, SST, we are very close to our production bikes, except for a few details, the teams involved are there to do the best possible result, and are entitled to a little preparation:
engine mapping, exhaust silencer, rear shock, fork prep (so only the components, not the whole fork!), sprocket and crown, a steering damper -like many sportbikes.
The weight: as we have less power, we're ok with a little less weight (168 kg minimum).
As for the EWC: 1000 3-4 cylinders or 1200 cm3 for the twin-cylinders.
Identifiable on track with their red number plate and yellow headlights!
Expérimental category
This is a special category, reserved for motorbikes integrating an innovation. Like the Metiss bike #45, which takes the start in endurance since 2005 with its double balance fork, and, since 2017, the Kawasaki ITeM Excent #17 with its quad fork. Innovation focused on the front end, or the eternal search for stability / reactivity.
As for weight, minimum 165 kg, and displacement from 600 cm3 for 4 cylinders (up to 1000), and from 750 to 1200 for 3 cylinders.
Identification: green number plate and yellow headlights (same as SST, you'll have to keep an eye out at night!)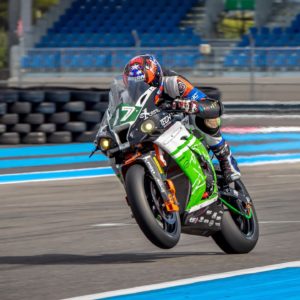 Common factor in all the categories, the tank! Obviously, on this very sensitive point, one rule: 24 litres and not a drop more.
Text: Isabelle Maillet
Pictures: Spa-Francorchamps.com, Philippe Saccaro pour ITem
Checkout all articles about 24H Spa
Checkout all articles about EWC FIM