Years of searching for the « perfect » tracker, with a somewhat excessive demand, I admit! When you like it…
Knowing that any tracker is an important investment, it was out of question to buy a tracker with the constraints that it represents (assembly, budget…) without being totally satisfied.

SMT Performance has the argument that made all the difference on Pegasus: the 4 times per second geolocation, which, if you don't find the bike in a 4th basement (my dream!) will give you back exactly the place where your bike is stored … that you will « just » have to go deeply though -ideally with official help!

But that's not all ! Not only will your bike have its guardian, but Pegasus also promises to help you improve your driving skills!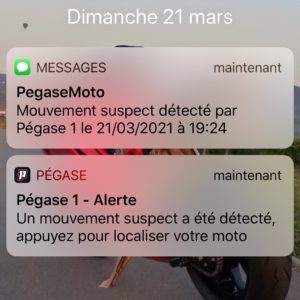 1. Material & ultra fast assembly
Amazingly simple:
Pegasus, the « head », a small and compact box (80 x 40 x 15 mm), composed of a gyroscope, an accelerometer, a magnetometer and the algorithms necessary for the acquisition and analysis of your data.
-> Mount it, with the logo facing the sky, on a rigid base (ideally on the frame) that is perfectly horizontal. Ideally in a discreet location.
Connect the cable to the battery (child's play), 2 U-shaped plugs to be slid onto each battery pole, colours to match, (red + first isn't it!!)
Connection on the power cable of the Pegasus box thanks to the screw plug, very qualitative and waterproof as the box.
Pairing with your Pegasus app loaded on your phone beforehand,
Confirmation of the axis of the device in relation to the road (parallel or perpendicular to the road) for data acquisition, and here we go!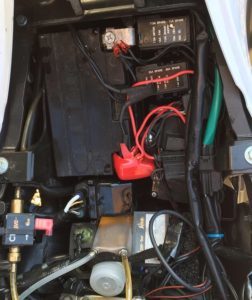 2. How does it work?
It is activated the first time you ride, for about fifteen kilometres, then you forget it, the tracking is automatic.
Just remember to deactivate the anti-theft alarm with a click to avoid notifications, you will reactivate it on your arrival.
Equipped with GPS and GSM (2G) tracking, the follow-up is guaranteed in a very large number of countries, on the 5 continents, without subscription!
Before a far departure, check this point on the Pégase Moto website !
The case is perfectly waterproof (however, do not immerse it in water) and has an anti-discharge battery protection, which is activated for 1 month without riding the motorbike. It can stay in place when you use a battery charger.
Compatible with IOS and Android, Pégase is totally independent, and also works when you forget your mobile phone.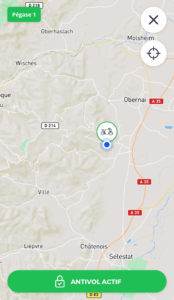 Tested several times, Pégase immediately sent the expected alerts: notification, sms and e-mail -all 3 for me!
3. To keep the best rides, and to share them
No data transfer, no hassle of plugging in is required. Everything is in the app, from which the export to GPX is immediate with a simple click. Your file can be integrated into a classic GPS or a Geotracker (app). Its information can also be used in your video editions via Dashware for example.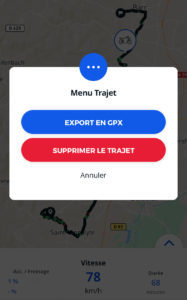 4. Improve your driving skills on the bike
Pégase memorises your position, but also your driving characteristics: acceleration (green) / braking (red) zones, speed and angle. Used intelligently and with respect for other road users, it is a really interesting tool for better understanding and, if necessary, adjusting your driving.
The device recognises the laps, and automatically adapts to the circuit mode, to ensure that your progress in riding mode is fully monitored. The display will automatically adapt to the track mode (not yet tested here).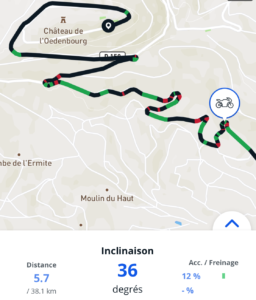 Its reliability is :
Timer: 1/100th of a second,
Speed: 1/10th of an km/h
Angle: 1/10th of a degree, so no need to question its data…
Of course, you can share your information with a click on social networks !
Pégase Moto is CE / RoHS / R10 (automotive standard) certified , its operating range goes from -30°C to +65°C (it's up to you now !).
2 years warranty.
Conclusion
Who has never thought of protecting his motorbike? Equipping yourself with a Pégase gives you real peace of mind. It is not an anti-theft device that will prevent your machine from being stolen, but a tool that connects you to your Bella and ensures that you can find it.
For the other options, we touch on « sensitive » points, such as :
road trips and the desire to « rediscover » a beautiful road
the « so what, how was I? » style. The tangible information of this device will answer many questions, in total objectivity.
In any case, it's a great way to re-live your trips, whatever they are, very fun and quickly addictive! Enjoy your rides 😉
Text and pictures : Isabelle Maillet