Who can do the most, can do the least. ACF-50 will do the most for you: anti-corrosion first, and also protect from humidity and …revive the colours of the fairing and accessories. If there had to be one, it would be this Swiss knife product!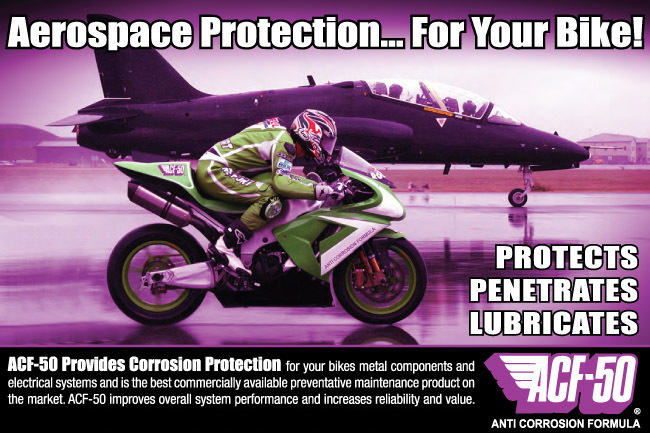 How to apply ACF-50?
By simple spraying. So fluid that it penetrates all the gaps, ACF-50 anti-corrosion will not only TREAT the metal and literally volatilize the corrosion – which you will have previously cleaned or brushed to remove the largest pores – but will also PREVENT a restart of corrosion.
Make no mistake: a totally rusted part does not become new again! But a part with corrosion formation on assembly points or fasteners will become very clean again, as shown in the pictures below.
OK, on a recent motorcycle (my Z 1000 is 3 years old now), you still have to search… and by searching, you find!
Nova Moto Test
Handling time: 3 minutes, counting the fact that it was a first use. Children's play. And since then, 5,000 more kilometers and… nothing else.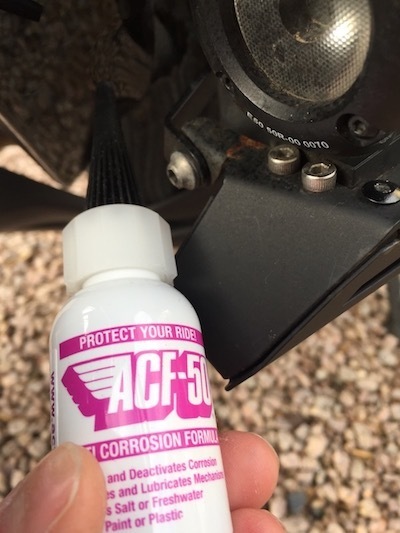 BEFORE
AFTER TREATMENT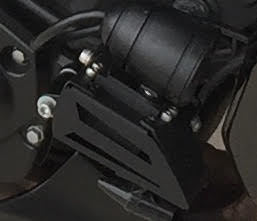 Innovation?

This ACF-50 corrosion guard was born 25 years ago in Canada, where it was created for military use. It meets the requirements of military standards (reference MIL-C- 81309 type II III). Intended to treat equipment used on aircraft carriers, it has been widely distributed within the armed forces, and also in the aviation industry more generally. It was a British distributor who was the first to generalize its marketing on the motorcycle market. It has therefore proved its effectiveness in a humid climate context…
So it's not totally new on the market, but the way I found out about it is pretty cool. Audrey Cariou, Test Your Fun has been distributing it for several years, and just offered to give it a try. I must admit that at first glance, I didn't really see how …no, my Italian doesn't rust! And by chance of a cleaning, these traces on the directional lights… And hop, 3 minutes to treat, a few rainy trips in April in Alsace, a roadtrip a little dustier in Spain. 5,000 miles further: adopted! And here it is on Nova Moto le Shop, I'm sure we all have – looking for it a little bit – some little touch-ups to do.
How to use it
Much more than a classic anti-corrosion product, ACF-50 treats and protects to better anticipate rust attacks, dehumidify, but also simply protect (cladding, chrome). It can therefore be used on all parts of the motorcycle:
electrical harness (isolator)
motor (isolator, anti-corrosion)
screws and bolts (anti-corrosion)
bodywork, trim, chrome (protects against road salt, easy cleaning)
ACF-50 anti-corrosion leaves an ultra-thin, hydrophobic, shine reviving film for total protection. It is effective for 12 to 18 months, perfect for treatment before wintering. For off-road enthusiasts, or karcher (to be avoided) it will be necessary to start again earlier.
Warnings:
– Protect brakes and tires before spraying
– Be careful not to use too much product, it is useless.

Renewal of the treatment
As long as the water poured on a treated surface takes on a water-repellent appearance, the treatment is still intact. When it spreads, you should think about re-treating.
Text & pictures: Isabelle Maillet (first pic ACF-50 corporate)