Is motorbike endurance a French discipline? That's what we like to say… in France! Let's admit that these last few years the borders have opened up, both in terms of the teams that take the start and the recruitment of riders. And we won't mention here the famous riders coming from SBK and MotoGP who are more and more present on the endurance formats, for the greatest happiness of the public, simply of the European permeability in the recruitment of riders.
But for the time being, let's take advantage of the return of Spa-Francorchamps in the FIM EWC calendar in 2022 to focus on the neighbouring teams and riders!
Belgian riders, and teams!
On Teams side, BMW Motorrad World Endurance Team #37, and his well known Team Manager Werner Daemen and emblematic riders: Markus Reiterberger, Jérémy Guarnoni et Mykhalchyck Illya.
On the riders' side, 10 riders will start next weekend at 2pm on the Spa-Francorchamps circuit.
Xavier Simeon, SERT rider since 2020/21, is no longer to be introduced: after 10 years in Moto2, MotoGP (2019 with Avintia) and MotoE.
Others have iconic names, such as Gian Mertens who will share the TRT 27 with his compatriot Gian Bianco. And we have an all-Belgian crew on the #34 JMA Racing Action Bike: Cöme Geenen, Yan Ancia and Nicky De Wit. Not to mention: Vincent Lonbois and Loris Cresson #24 BMRT 3D Maxess Nevers, Arnaud DE KIMPE joined belatedly by David Drieghe in the #56 Players team, after his MototechEWC team, another Belgian team, did finally not participate.
Unfortunately, Bastien Mackels #4 Tati Team, who has proven himself in IDM, a particularly tough German championship, was injured one week before Spa 24H, on an IDM round in Oschersleben. Let's wish him an excellent recovery for a perfect comeback in IDM with Weber Motor Kawasaki Racing Team #91, picture below, and in EWC FIM!
A private event is nevertheless confirmed, all informations available on Bastien's website.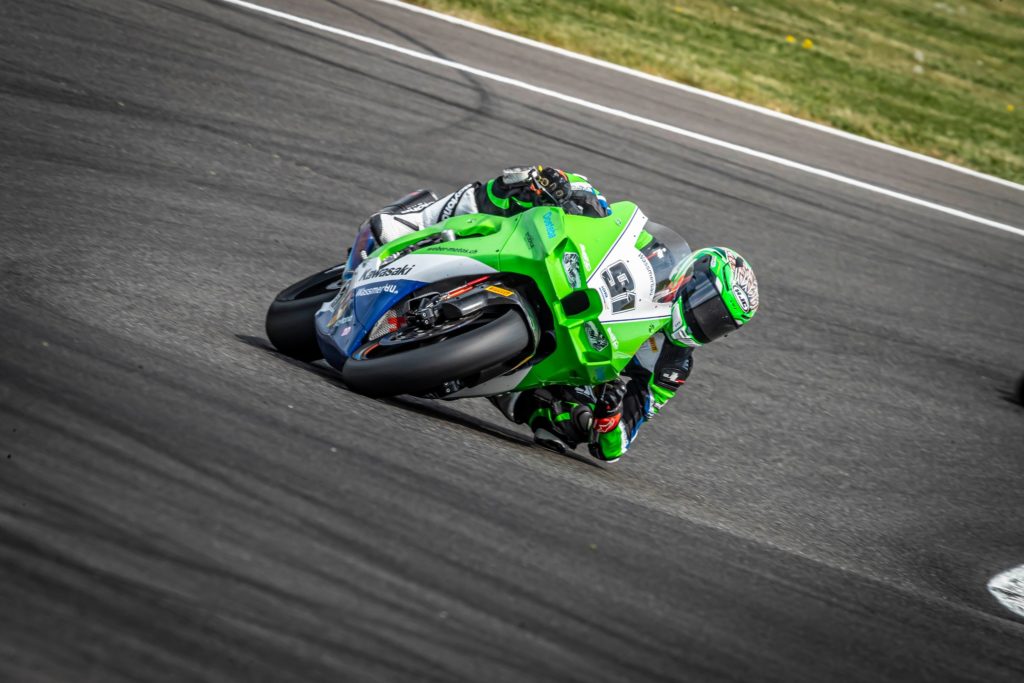 From father to son
A touching exchange between Michel Simeon, father of Xavier, winner of the 24H of Liège (former name of the 24H of Spa-Francorchamps) in 1987 and 1995 on a SERT machine. He was in 1995 the last Belgian to have won the 24H of Liège, in other words, Xavier's objective, apart from aiming for the 3rd title for the SERT with his team-mates Gregg Black and Sylvain Guintoli, was to be the first Belgian to win the first edition of the 24H of Spa!
24H Spa, a motorbike festival shared with its fans
Warm-hearted Belgians? On the evening of June 2nd, a sharing event takes place, the beginning of the « Grand' Messe » that we all expect from the 24H of Spa. The machines leave their boxes for a road trip to Malmedy, next to the circuit, for a meeting with the local public. The party is successful, this is only the beginning!
Text: Isabelle Maillet
Pictures: Bastien Mackels (Weber Motor Racing Team IDM), FIM EWC, FIM 24H SPA
Checkout all articles about 24H Spa
Checkout all articles about EWC FIM