Have you dreamed about it? BWM did it! Definitely, after the ACC, here is M Endurance, the innovative chain made by BMW Motorrad, which does without lubrication maintenance. The topic of clean chain lubrication has been a constant subject since the birth of Nova Moto. Chain lubrication is a chore, and we are constantly looking for solutions to free the motorcyclist from this ungrateful task. This is the solution offered by BMW.
No more maintenance, therefore no more lubrication?
Well, they could have chosen the promo image better, but it is the one provided by BMW Motorrad, still well protected with factory protective grease. The initial task when changing chains and having an automatic lubricator! Yes, at least for aesthetic motorcyclists…
The result of a collaboration with Regina, this chain will allow you to ride long distances and this for years, without greasing or tightening the chain!
How does it work?
In addition to the already existing internal lubrication in the rolls and axles behind the X-rings, it is an industrial surface treatment of the rolls and axle sleeves with tetrahedral amorphous carbon (ta-C). This is a particularly hard form of the DLC (Diamond-Like Carbon) coating, which provides protection for the various components of this revolutionary chain.
We are talking here about dry lubrication …which is similar to another Nova Moto story: CarbonforBikes.
The action of this Ta-C treatment minimises friction and avoids external lubrication of any kind.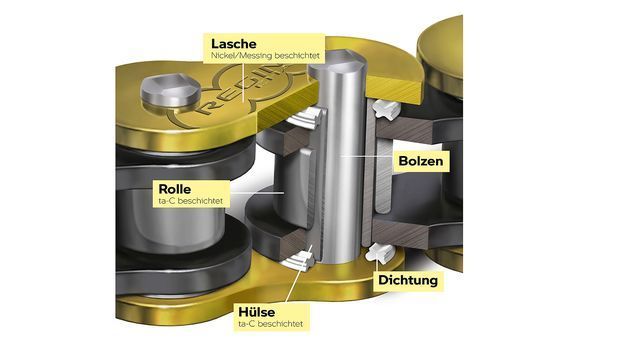 Conclusion: total efficiency
No or very little friction = cleanliness, minimised elongation and maximum durability, BMW announces a minimum life of 20,000 km for this chain, and an efficiency similar to a cardan for a power that should be preserved and even guaranteed in the long term. This chain does not require a specific sprocket or chain wheel.
A disadvantage (non-functional)
One aesthetic disadvantage remains, clearly communicated by BMW, already known on CarbonForBikes, as the plates are not lubricated and can therefore rust (after a ride in the rain for example). The recommendation is to lubricate lightly when going to the workshop.
For Nova Moto this is a pity, because by doing so the customer loses the unique aesthetic advantage of an immaculate and functional chain. There are a few specific habits to be taken and kept to ensure constant impeccable aesthetics. If you are interested in this subject, Nova Moto is happy to share its 9 years of experience in this field.
What about the development of this technology?
The DLC chain by Regina, developed with BMW Motorrad, ensures the exclusive distribution to the brand only on the BMW network.
Motorbikes / compatible / equipped ?
At the moment, BMW starts with 525 chains, (for info, in mm, 5 is the chain step, i.e. the distance between the links, and 25 is its width), for S1000R and S1000RR.
It is announced (German source) that Regina may have a reduced quota to distribute directly – keep an eye out! – but will not be able to assign rights to other brands.
Recommended retail price: about 286 euros for the chain, about 425 euros for the kit, + 100 euros if it's a new option.
Text: Isabelle Maillet
Photo: BMW Motorrad