There is no need to rewrite the history of 2020, which has been strongly affected by the health crisis. All motorbike sports disciplines have been heavily impacted in a climate of constant uncertainty. At the end of the year, there were high expectations to be able to look ahead to 2021. Here is the agenda confirmed by the FIM!
FIM EWC 2021 agenda
5 appointments are to be noted in the agendas of endurance fans, and will now trigger the teams. Of course subject to health conditions in France and abroad.
The opening and closing of the season will remain the same races as in 2020: the 24H Motos in Le Mans and the 12H Estoril (race held on Saturday).
Between these two dates, we will happily find the events sacrificed in 2020: Oschersleben (8H), Suzuka (8H) and the Bol d'Or (24H).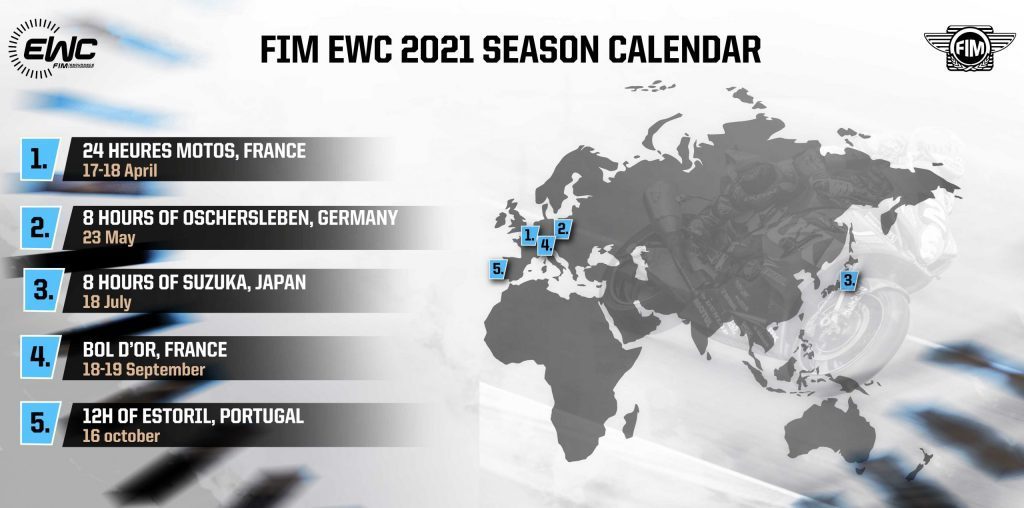 Rder safety innovation
Highly visible light panels will be progressively deployed on all circuits. This is an obligation for MotoGP and FIA from 2022, and WSBK and EWC FIM from 2023. Used by the race direction as well as by the marshals, they will ensure optimal visibility for the riders both by day and by night. This is the difference with the flags or panels used by the marshals at the trackside, whose visibility differs according to the weather and light conditions.
This is the result of a close collaboration between the FIA and FIM, already implemented to harmonise the standards of paintings on the circuits, a fruitful collaboration therefore.
Other EWC paddock information
The 2021 season will be a key year for Team 18 Sapeurs-Pompiers CMS Motostore, which will return to EWC championship at Le Mans in April, with a structure that has been extensively revised at both technical and human level. This information has been widely presented in a previous article. And the objective of Team 18 is to get back on track for another season as a permanent team, which is a double challenge.
Team Bolliger, after the transmission of team management from Hanspeter to his son Kevin in Estoril, has already confirmed its 2021 riders team: Nigel Walraven (NL), Jan Bühn (D) and Jesper Pellijeff (S). The Swiss rider Marcel Brenner will be the new substitute rider in the team (European Moto2 Championship).
SERT now offers « customer-race » preparations on Suzuki, thus putting its 40 years of experience at the service of future Promosport, SBK and Endurance teams/drivers who wish to outsource their preparations to the EWC 2020 world champion team.
Check out all articles about FIM EWC
More articles about Team 18
Get partner of Team 18 Sapeurs-Pompiers!
Text: Isabelle Maillet
Pictures : FIM EWC