We are lucky! Everybody, absolutely everybody wants to protect us, with a lot of measures … expensive, supposedly after tests, at least not always reliable. So let's look for concrete solutions.

Nova Moto discovered more than a year ago, STS Smart Turn System, an incredible concept of automatic motorcycle turn signal cancelling which is a real safety solution for the motorcyclist. This device cancels your turn signals for you! Anyone who has never forgotten the turn signal should raise their hand! The reading stops for you 😉 For the rest of us, ordinary bikers, let's take a closer look at what STS Smart Turn System, the small motorcycle turn signal automatic device, has to offer.
That's STS Smart Turn System
Complete playlist on
YouTube Novamototv
The story of this discovery

More than one year of testing the generation 1 gearbox by Nova Moto, and the re-testing after Eicma Milano of the generation 2 gearbox this time, were necessary to convince me completely. Why? Simply because, beyond the excitement of discovering an innovation, the products proposed on Nova Moto must first convince me: assembly, riding, daily use. It is important in a sincere commercial approach to have the conviction to trust the product completely and to understand it well, in order to be able to advise Nova Moto customers on its assembly and daily use.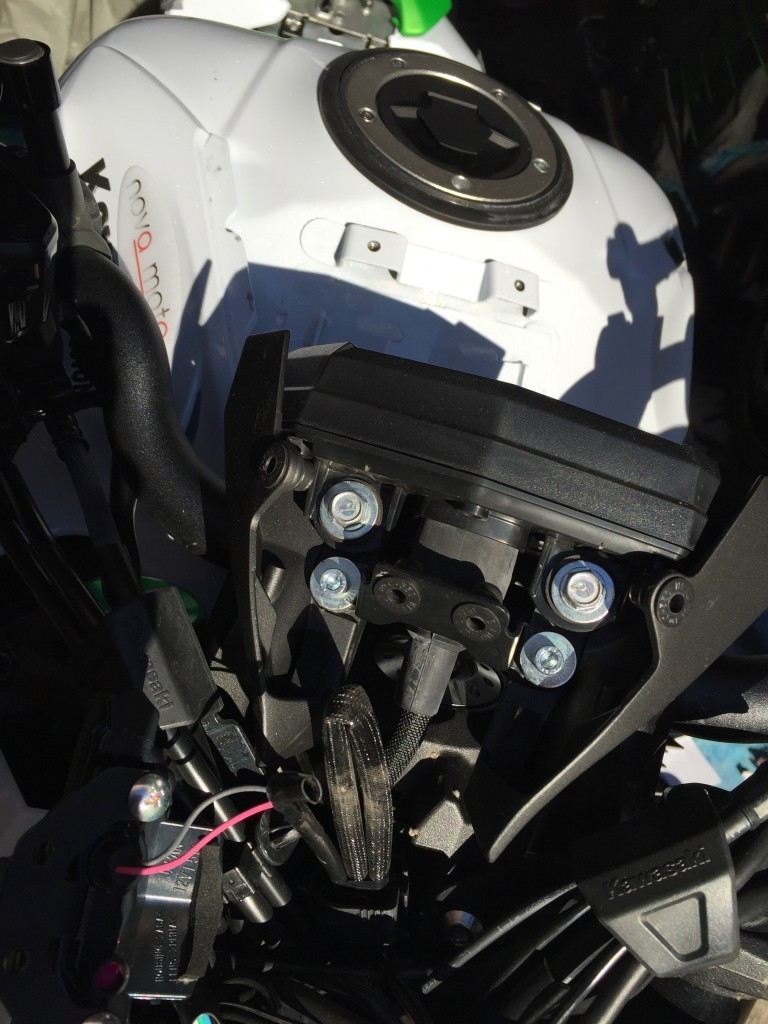 Difference between the first unit tested from February 17 to the end of June 17 ? And the current one ?
Nova Moto uses a roadster as a test bike. The Z1000 is also a rather firmly shocked motorcycle, which can be a constraint, and which is finally an excellent test for most customers! Concretely, the generation 1 box was not totally waterproof, and suffered some constraints with a malfunction -not dangerous and totally controlled- which had however cooled me down a bit at the time.
The STS generation 2 unit of automatic motorcycle turn signal assistance, is totally waterproof, the electronics have also been redesigned for an almost immediate initialization that I'll detail soon in a STS assembly tutorial.
Conclusion: a totally accomplished, safe and efficient product that is a real support on the road on a daily basis. You will be more relaxed, and will be able to concentrate on the road. Only.
The promise of STS Smart Turn System: you will NEVER forget your turn signal again!
One of the many differences between a 2 and 4 wheel vehicle is the motorcycle turn signal. And forgetting your turn signal can be confusing to others around you and put you in real danger. We are not talking about potential danger, the penalty can be immediate, as shown in the video above.
How the STS Smart Turn System works
This concept created by a young team of Slovenian motorcycle engineers, or biker engineers, is a kit composed of an electronic motion detector and speed sensor. As with the adaptive headlights, this box will detect the acceleration/deceleration of the motorcycle and its angle, and thus « understand » when a change of direction has been made and activate the off turn of the indicators.
Unlike existing systems on the market, this is not a timer that stops the turn signals after a set time or a pre-programmed number of turn signal activations. The advantage is that it will actually switch off when necessary. Example: you are moving up a lane, it will not go out when you are still overtaking and because the timer has run out, but really when you reposition yourself and the movement to the right of the bike has been detected!
You will be excited by this little box that includes :
1 motion detector: detects 300 data per second to analyse every movement of your motorcycle.
1 accelerometer: records acceleration, deceleration and vibrations in order to anticipate any change in direction of your motorcycle.
1 gyroscope: combined with a powerful algorithm, it accurately detects the beginning and end of maneuvers.
How's it going in practice?
1. You have to give the impulse to engage the blinker – even if you are at one with your dear machine, it will not be able to guess yet (this will perhaps come later!) where you intend to ride!
2. Then, nothing more, it is your motorcycle, as soon as the change of direction or overtaking is done, that will stop the indicator!
3. A real soul relief for people (I admit) who sometimes forget it, a feeling of freedom (let it go, liberated!). The reflex pressure on the central button to check if it has not been forgotten, is quickly forgotten.
Does it work every time?
The few times when the motorcycle turn signals may not be automatically turned off with STS is when you gently turn right after overtaking (left for English people). Then, just a little hip move, and off you go. The rest of the time it's absolutely unfailing! And no matter how hard you look, no matter how much you watch, nothing helps: your bike is smarter, it drives you safely.
Universal kit ?
Almost! Except BMW and Ducati, wired in BUS LIN -my beautiful Red will wait a little longer ;)- all brands are compatible.
Certifications
Official certification documents and test results are shared below:
1. STS FCC test report
2. STS E26 type approval
3. STS conformity certificate
Availability / Price

Nova Moto will get them current March 2018.
Launch price 149 €, repositioned in 2019 below 100 €, 99 €.
One last thing
Since discovering the concept that led me to create Nova Moto, an clean automatic chain lube concept, nothing has dazzled me as much ingeniousness and consistency with our biker needs as STS. Moreover, the team of serious, enthusiastic and passionate developers has allowed us to really progress together throughout these months of testing. We will do everything we can to make this STS concept, of self-turn indicator stop, a daily satisfaction for you.
To simplify installation, the colour-coded documentation specifies the wiring marking for each brand.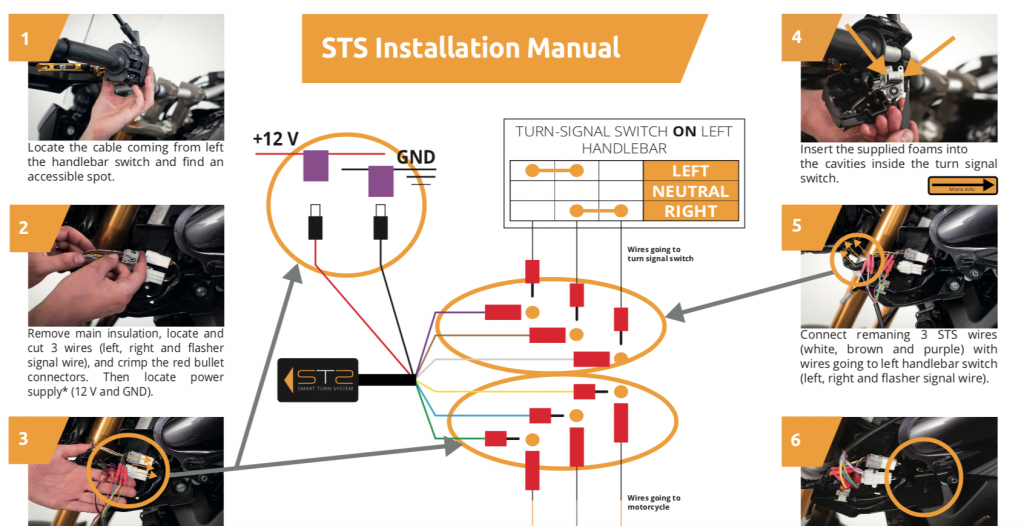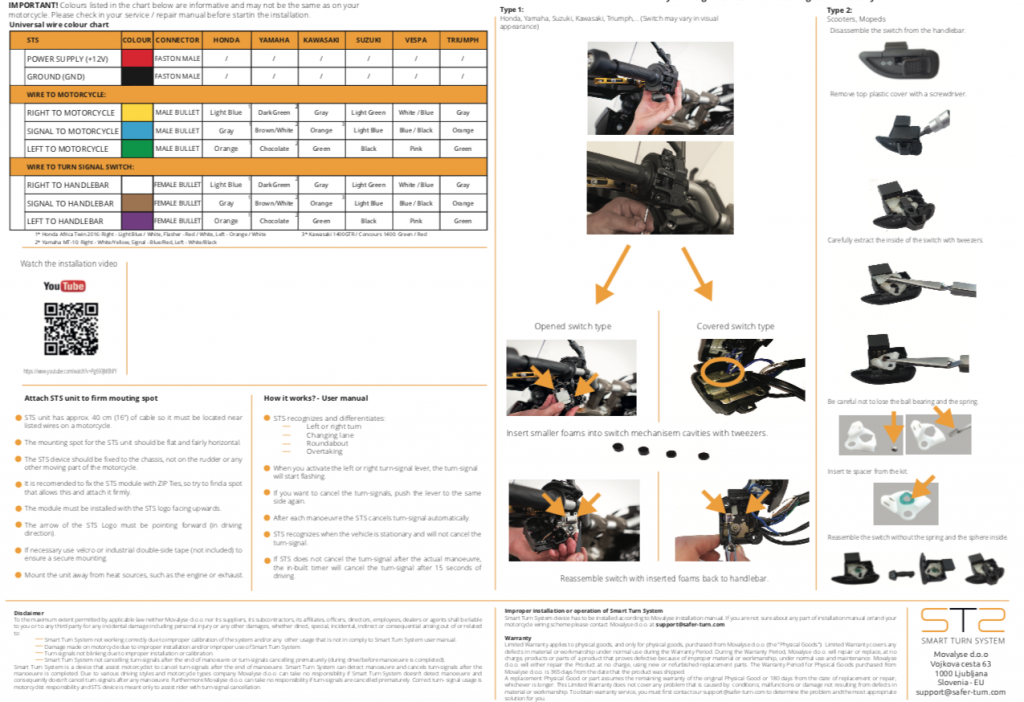 Video STS fitting tutorial
Please check out all the articles about STS
Text: Isabelle Maillet
Pictures: Isabelle Maillet, banner & videos: Smart Turn System